Point of Purchase Displays

We are glad to see that you consider DIAMOND SCREEN to be a partner in your POP design/manufacturing process. Thank you.

Are "graphics" more important than the POP display itself? Yes, No, Maybe? Probably not, but you'd agree that it is extremely important. Correctly printed and placed graphics is what sells the product. Diamond Screen for years has been working with local and out of state POP manufactures on many designs from simple bubble gum countertop displays to full scale wall graphics. With an ability to do a direct screen & pad printing on metal, plastic, paper or glass materials plus recent addition of large format flatbed digital equipment, Diamond Screen is a one stop shop to fulfill all your needs.

Simple addition of company logo, line of text or directional message to a metal, plastic, paper or glass countertop display unit, end cup or free standing floor display is extremely important. Forget the labels, direct screen or pad printing is the way to go for durable, long lasting impression.
Screen & pad printing
Laser etching & cutting
Standard & PMS colors
Special effects–fluorescent/metallic/etched effect
Short runs & full scale production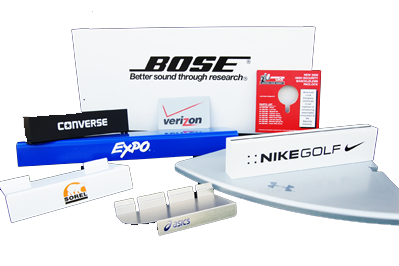 For large quantity of flat graphics for interactive kiosks, free stands, modular displays or wall systems - screen printing is the way to go. From simple 1 color headers to full color, cut to size/shape side panel inserts Diamond Screen is prepared to handle it all.
Display headers/side panels
Backlit graphics
Channel inserts
Interactive catalogs
Selection charts/flip cards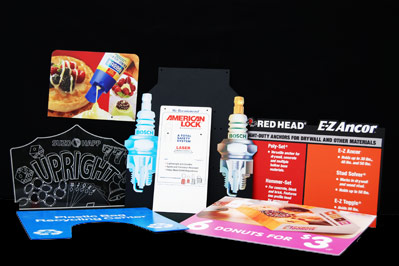 Recent addition of digital printing equipment (both flexible and hard surface) have moved Diamond Screen to a top supplier list for POP manufactures in Chicagoland area. When you have a need for short run production or large one with different copy changes – digital printing is an excellent solution. Diamond Screen can provide either flexible media graphics printed on roll to roll equipment or hard surface up to 1.5"thick printed on flatbed presses. We can also finish it up with addition of specialized laminates, liquid coating, cutting or routing to and size or desired shape.
Flexible display headers & side panels
Translucent acrylic
Duratrans/Duraclear graphics
Melamine headers (up to 1.5")
Sintra, PVC, acrylic displays
Aluminum/steel signs
Cutting/routing to size/shape
Specialized finishing processes
Combination of digital printing & screen printing
Light assembly & specialized packaging